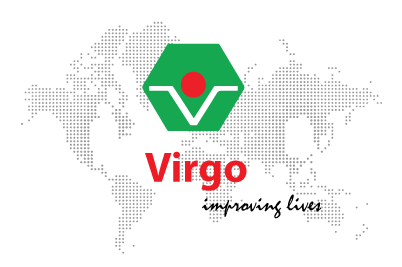 To generate sustainable growth in our existing businesses
To develop new businesses
To maintain as the leading player in which we compete
To maximise returns to shareholders
To contribute to the socio-economic development
To combine our knowledge, experience, assets, and human resources for value creation

Established in 2010, Virgo Pharmaceuticals Ltd. is one of the fastest growing pharmaceutical companies in Bangladesh. Since its inception, the company has been striving hard to become one of the flagship companies in the pharmaceutical arena, both locally and globally, through providing the best quality products at an affordable cost. In this connection, it has been launching new and innovative products to cater to the needs of the medical fraternity.
It is situated beside a river in a natural calm environment. The total land area is 13 hectres among which 5000 square meters are factory premises, and rest are bared land for future expansion. The factory is 40 kilometers away from Dhaka city.
Virgo pharma offers a wide range of products of various therapeutic classes which include analgesics, anti-ulcerants, cough expectorants, antibiotics, vitamins & minerals, women's health product, cardiovascular, anti-diabetics etc.
A perfect amalgam of dynamic & skilled professionals and advanced technology enabled Virgo to reach the highest echelon of manufacturing tablets, capsules, powder for suspension, and various liquid dosage forms.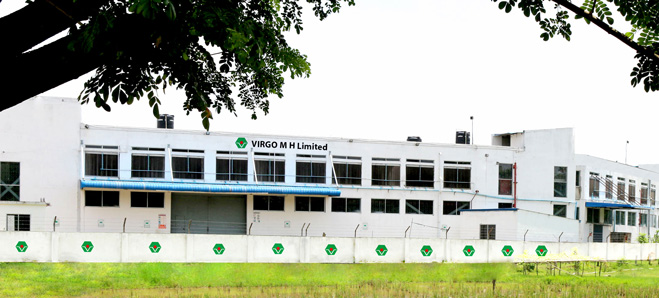 Virgo M H Limited (Virgo Mahabuba Holdings Limited) is a modern factory equipped with the latest Automation Machinery from JUKI and other world-class brands.
Virgo M H Limited (Virgo Mahabuba Holdings Limited) with skilled workers, breathing environment and relaxed working atmosphere wants to prove itself as a well designed and well equipped modern factory in Bangladesh.
Maintaining the compliance as per the requirement of European buyers (Accord) The factory is "Green" standard.
THE FACTORY
Standard wage rate
Attendance bonuses
Excellent Dining area
Productivity bonuses
Overtime rate as per local law
Standard clean & hygienic toilets
Daycare center for worker's children
Full-time Doctor & Nurse facility
Occupational & fire safe environmental friendly working area
Practices
The company strictly prohibits the practice of discrimination and employment of any child or forced labour
The company abides by all code of conduct practices of most of the apparel imports of USA & EU
The Company highly regarded for its quality control management practice

With a good number of companies and expertise Virgo, a multi-diversified fast growing business house has launched Virgo Fish & Agro Process Limited which is first of its kind in Bangladesh.
Our Main offer from this plant is a wide range of frozen fish and fishery products, Industry related products such as Fish Oil and Fish Meal are also produced. The processing plant has been equipped with modern and advanced machinery supplied and installed by Danish experts under the Technical Assistance of DANIDA.
DANIDA has approved us for Danish Business Partnership (DBP) which brought us the opportunity to get assistance from DANIDA and the DANISH Business partners not only in Factory Designing, machinery installation and commissioning but also promote Export of products, Employee training and exploring markets in EU and other countries.
Bangladesh is a Member Country of INFOFISH (FAO, UN Project). Under an agreement with INFOFISH, we are committed to develop and promote the freshwater fish product in south East Asia, Europe and all over the World.
We have the versatile cold chain delivery network system in home and abroad. We have modern & scientific cold storage which can store about 1000 MT processed fish.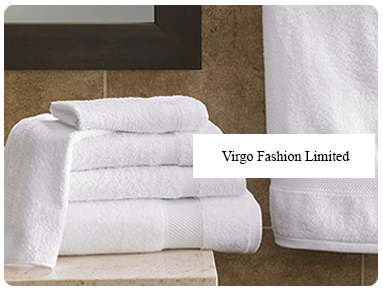 Virgo Fashion Limited is a 100% export oriented composite Terry towel-manufacturing unit of Virgo and it operates from the BSCIC Industrial area of Kishoreganj. 
The Company is proud of its Professional Management, Latest technology, Excellent Quality Control infrastructure, and foolproof Logistic Management to ensure a seamless supply chain from raw materials to retailers. Virgo Fashion is another venture to explore the opportunities in textiles with the experts in the Virgo Family.
AT A GLANCE
Commerical Production began in 2017
Factory in BSCIC Industrial Area, Kishoreganj
6 Tons of Towels per day
15 Tons dyeing and finishing facility
HT Dyeing Machine
17 Tons Airflow Soft Continuous Tumble Dryer
Fully Automatic Rapier Loom
Yarn sizing facility
Direct & Sectional warping
Beam Lifter and Beam Carrier
State-of-the-Art stitching machines
Color Lab for accurate color matching
Finishing and Packing facility
Automatic Knotting facility

 
Quality in Focus
In-House Laboratory with all facilities.
Well defined startup process procedure.
Fully established traceability procedure.
Zero tolerance approach.
Process control using tools.
State-of-the-Art ERP system for the business process.
Virgo Tobacco Limited is a sister concern of Virgo Global, which is a fast growing diversified business organization. Virgo Tobacco Limited has a wide range of offerings for the tobacco industries of Bangladesh as well as international tobacco market.
With a uniqueness of experienced technical expertise, Virgo Tobacco is producing Diet (Dry Ice Expanded Tobacco), Threshed and Hand Strip tobacco of FCV and Burley.
We are also producing and offering different varieties of blended tobacco for cigarettes, cigars, RYO & Pipe tobacco, expanded stem (CRES), Recon tobacco and other tobacco products. With a mission to guarantee quality Tobacco Product, we have started our journey with some prominent local experts as well as the foreign technical experts.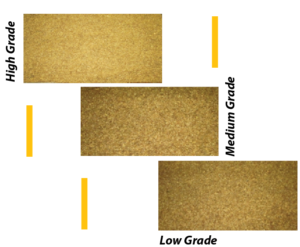 We are Located at
Address:

House # 178, Road # 02, DOHS Baridhara, Dhaka-1206, Bangladesh.